When I was a little girl, my favorite bedtime story was Dr. Seuss's Sleep Book. I loved the story and pictures so much, I asked my mom if she could help me go into the book and live inside of it somehow.
She tried to honor my request by doing the next best thing: cutting out photos of my head and pasting them on various characters throughout, so that every time I read the book, I would feel like I was in the book itself. It didn't exactly work for me, but it was close enough for jazz.
Now I'm a mother of two who reads Dr. Seuss's Sleep Book to her own children and is pushing 40 with real responsibilities like a jay-oh-bee and a mortgage. Yet I'm having the same experience watching Sons of Anarchy, knowing for a fact that
if this show were real life and I were in it, the main character and all-around indisputably fuckable Adonis "Jax Teller" would totes want to be my boyfriend.
For real you guys. I've never been more sure of anything in my life!
Not since Lloyd Dobler in Say Anything have I been so, SO positive that a completely fictional and deeply complicated heartthrob would be my #1 bae and personal salt lick if only: (a) He existed; and (b) I could climb into the screen ala Purple Rose of Cairo and win him over with my brains and beauty. I would even break up with Eddie Vedder for Jax!
I am buoyed by the fact that, like me, Jax's love interest on the show is a brunette with a graduate degree and thick black eyebrows on fleek whom Jax had to rescue from a gross creepy stalker. Except for the stalking part and give or take 40 pounds, this woman is my TWIN. She shares my cunning combination of helplessness and self-sufficiency in perfect proportion. I do enough stupid shit that Jax will feel like he's rescuing me every time something scary happens, but I'm smart and competent enough not to come off as a totally pathetic damsel in distress all the time.
This proves I am THE top contender to be Jax's "old lady," as they say in outlaw motorcycle lingo.
In my fantasy world, Jax's fictional old lady was never even born, and is instead replaced by me on the cast. Also, the cast isn't actually a bunch of mediocre actors in a pretend California town, but real life in which I have 24/7 exclusive VIP access to Jax Teller's delicious flowing blonde surfer locks and ripped bod, which I get to maul from the back of a motorcycle and hump in a bedroom or atop a kitchen counter on demand.
All because I went to grad school and have black eyebrows, which is clearly Jax's type.
Seriously you guys. Jax would LOVE me, and if Sons of Anarachy were real life, Jax Teller would totes be my boyfriend.
I swear.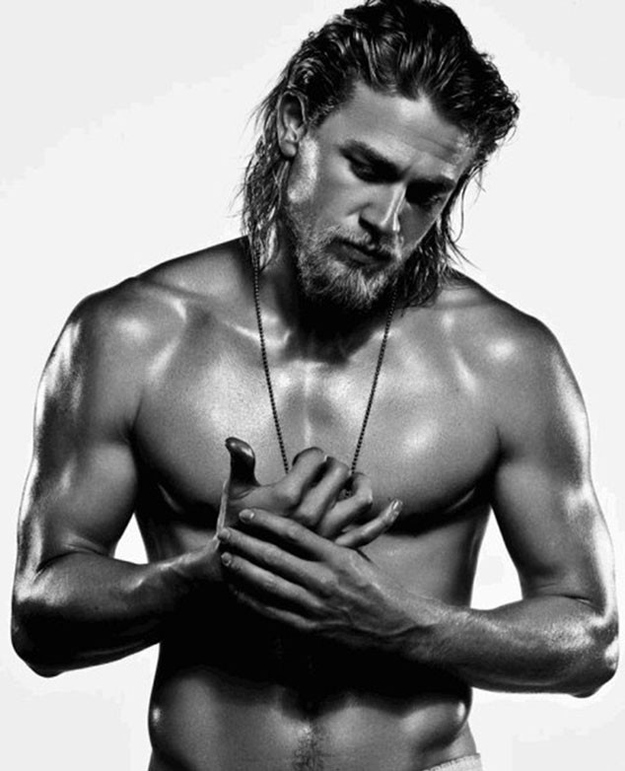 PICTURED ABOVE: Jax cracking his knuckles after bashing in some dirt bag's skull to defend my honor and then giving me a head-to-toe full body massage in the shower.